Animation Knowledge Center
By establishing the Animation Knowledge Center, a collection providing an interactive, experiential way of knowledge acquisition will be created that can convey values, develop competencies, and pass on traditions across age groups. All of this promotes young people's development in artistic, cultural, natural science, engineering, and IT literacy.
The aim of creating the Animation Knowledge Center is to collect, process and systematize sources related to the development of Hungarian animation and animation films, as well as the domestic and international professional results of Kecskemét animation, and its decades of operation, based on professional, scientific aspects.
As a result of the strategic steps started in the Animation Knowledge Center, the goal is to create the "Hungarian Animation House", which can provide a suitable place and framework for the long-term preservation, digitization and a public collection of various types of sources (documents, objects, photographs, moving images, etc.), as well as to create a collection that ensures accessibility and research.
The objectives of the Animation Knowledge Center:
- The scientific collection, processing and archiving of documents, photographs, motion pictures, tangible assets related to the history of domestic and Kecskemét animation, the operation of Kecskemétfilm Ltd. Exploring and organizing the history of international and domestic animation, researching the areas where Hungarian and international animation could be connected.
- With the cooperation of John von Neumann University Library and Information Center and the scientific university journal GRADUS, the publication of the professional and scientific results generated during the research in a digital form, published online in order to make the discovered values ​​accessible to young people and international researchers.
- The creation of a new, modern digital platform, which will later become the center of the interactive visual movement experience.
- Within the University's organizational units, the development of natural science, technical and IT education, the launch of related research programs, the development of new research directions with the help of animation (e.g., vehicle industry developments, representational geometry, machine components, etc.), as well as the finding possibilities of starting an advanced animator training course, and establishing the conditions for the training development.
- An active participation in the organization of the international Kecskemét Animation Film Festival (KAFF), building a national and international university network and including it in the operation of the film festival.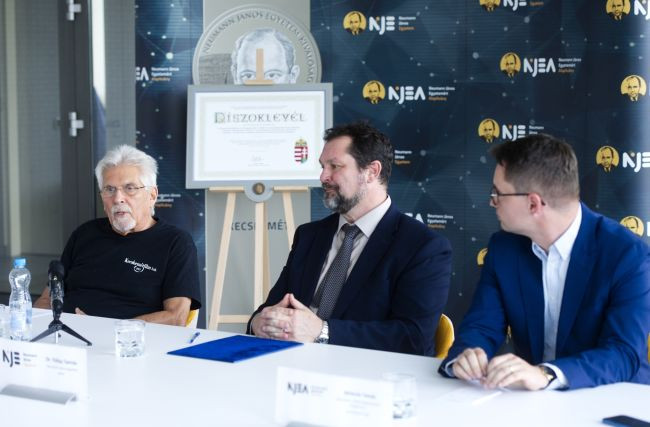 The operation of the Animation Knowledge Center is managed by a 3-person Management Board (Board), whose president is Ferenc Mikulás, the managing director of Kecskemétfilm Ltd., and the founder of the "Hungarian Animation House", Tamás Bánkuty, a Member of the Board of Trustees of John von Neumann University Foundation, and Dr. habil. Tamás Fülöp, Rector of John von Neumann University.
If you have any questions, please feel free to contact us:
E-mail address: ferencm@kecskemetfilm.hu
Postal address: 6000 Kecskemét, Ferenc Liszt Street 21.